Essence magazine has a feature this month celebrating black fathers. Included in the spread are Boris Kodjoe, Xzibit, Coby Bell, and Kenny Lattimore. Here are the highlights: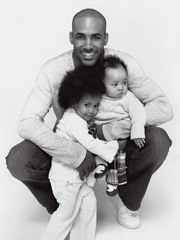 ActorBoris Kodjoe, husband to actress Nicole Ari Parker Kodjoe, father to Sophie Tee-Naaki, 2, and Nicolas Neruda, 7 months.
On being a dad: Having kids gives you wings and makes you feellike a superhero. Fatherhood has taught me unconditional love, againand again, and a depth of emotion that I've never experienced.Sometimes I wonder, 'What was I doing before?'
On raising a boy and a girl: My older sister always kept me in check, so I knew having a girl firstwould provide a great influence on the behavior of my son. Theirdemeanors are different — she's very sweet and affectionate, and he's areal boy, very stoic. Sophie loves her little brother and kisses him all day long. Nicolas is the happiestbaby in the world.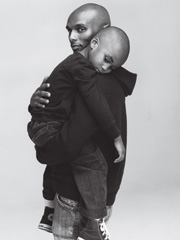 Singer Kenny Lattimore, husband to singer Chanté Moore and father to Kenny, Jr. (K.J.), 4, and stepfather to Sophia, 10.
On a special connection: K.J. and I share the same , and after he was born, I rememberwanting to be with him every second. Because I was molested as a child,I want to make sure that his innocence is protected. He was a verycalm, quiet baby, and everyone said, 'Oh, he acts like his dad.' Iwondered if we'd have the same personality, but I can see how his lifeexperiences are beginning to take over.
On blending families: My 10-year-old stepdaughter, Sophia, spends time at both our house andher dad's [actor Kadeem Hardison], and we all spend Christmas together.K.J. loves Sophia to death, and I spend quality time with her, lookover homework, and make sure to give her hugs and kisses, just like herparents.
Click below for photos and interview highlights from Xzibit, who wants to send a 'stellar human being into the world,' and Coby Bell, who talks about his 'two-for-one special.'