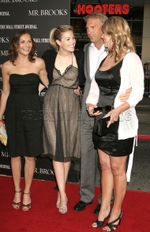 Kevin Costner is getting used to late nights again with the arrival ofCayden Wyatt, 1 month. The actor says he's not very nocturnal, but hastended to his newborn son in the wee hours of the morning.
He is kind of a night owl. He's not helping his mommy [Christine] because he staysup. His mommy stays up [with him]. I've never been a late person. Wetrade a little bit, but the big thing falls to her.
While he is still an "itty bitty," Kevin already hopes for great things for Cayden and has a lot of love and guidance to give to him.
He's a little boy and I will show him things that will hopefully guidehim through his life and maybe we will raise a young man that makes adifference. He's just needs a lot of love right now. He is real ittybitty.
With Father's Day looming, the Mr. Brooks star says he has no definiteplans yet with his other children, Annie, 23, Lily, 20, and Joe, 19.
I'm not sure where we will be at this moment. I don't have to be near my kids to be close to them.
Source: OK!