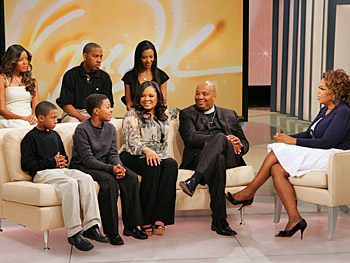 Reverend Run, Justine Simmons and their family appeared on Oprah on Monday and talked more about the loss of Victoria Anne. Most of what was said is the same information that was revealed in the Essence interview, but the couple does stress the importance of being in the now, hopeful of the future and not dwelling on the past because that just makes things worse. Justine says,
Oprah, you know how they say mourn and give 'em space? I'm not believing in that anymore. That mourning gives you more mourning, more blue, more depressed.
Rev adds that he would like others to learn to be grateful for everything in life no matter what happens, just like he is.
I don't understand what God did, why he did it, but I do know that I'm here now, I'm happy now, I'm here on Oprah, I have my children with me, and I don't have to keep remembering this if it's going to bring me down and send me into depression.
His children – daughters Vanessa, 23, and Angela, 19, and sons, Joseph "JoJo," 17, Daniel "Diggy," 12, and Russell "Russy," 10 – are keeping him plenty occupied as Rev's parenting philosophy is "Don't let go, even when they're older." While most parents loosen the reigns on their children as they become teenagers, Rev believes that age period is when parental involvement matters and is needed the most.
This is the time when they're making the biggest decisions of their life…This is the time when they're making career decisions. You don't back up now. When they're 17, 18, that's when they're ready to get high and act stupid. They pick the wrong boyfriend, the wrong girlfriend. So at that point, I'm right there.
His efforts aren't futile as his children appreciate their father's active parenting. Vanessa says,
Because you can make the wrong decision and they've been through life before. Sometimes the truth might hurt or I might not want to hear that or I might not want to do that, but in the long run, it's the right [thing].
Source: Oprah
How did you parent your teenagers – or how do you plan to?