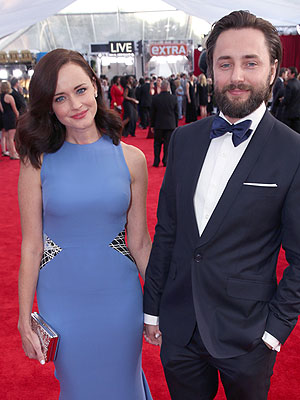 Matt Sayles/Invision/AP
The maternity pants are making their way around this circle: Alexis Bledel is a mom.
The Sisterhood of the Traveling Pants star and her husband, actor Vincent Kartheiser, welcomed their first child– a baby boy! — last fall, her rep confirms to PEOPLE. No further details are being released.
News broke when Bledel's Gilmore Girls costar Scott Patterson spilled the beans during a recent interview with Glamour magazine.
"She's really blossomed as a woman and now she's a proud new mother and married and happy," Patterson told the magazine of his joy in being reunited with Bledel for their upcoming Gilmore Girls revival on Netflix. "She's just the most likable, intelligent person and adorable human being. She hasn't changed at all. She looks the same. We're comparing notes because my son [born July 2014] is about a year and a half older than her young son. I'm showing her photos and videos and what to expect. We're just really enjoying each other's company."
Read More