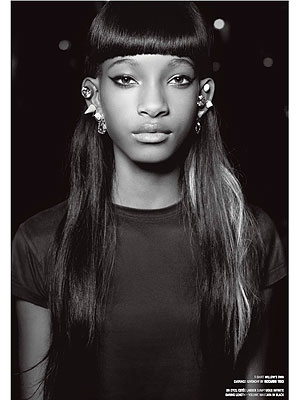 Karl Lagerfeld/V Magazine
It's hard to believe Willow Smith is only 13.
Just a few years ago, she released a hit single ("Whip My Hair," anyone?) and performed at the White House.
And let's not even talk about all her fun hair changes and style choices.
But what the teen wants now more than anything is to be a regular seventh grader. Which is why she turned down a chance to star in Annie, the film her father, Will, is producing with Jay-Z.
"I just wanted to chill, and be at home, and decompress, and just find out what I wanna do and where I stand on this planet, with the little tiny place we have," says Smith in the spring preview issue of V Magazine.
Read More