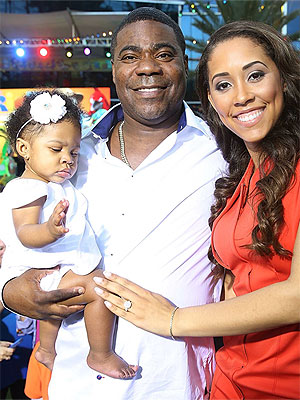 Aaron Davidson/FilmMagic
It's been almost a year since the fatal bus accident that left Tracy Morgan temporarily in a wheelchair. At the time, Morgan's daughter, Maven Sonae, his child with fianceé Megan Wollover, was only 10 months old and afraid to approach her father.
"[Maven] was a baby when I first came home from the hospital, so she was scared of the wheelchair," the comedian, 46, tells PEOPLE. "She wouldn't come over to me … I took that personally."
During those difficult moments with his daughter, it was Morgan's strong support system — including Wollover and her mother — that constantly kept his hopes up.
"[They] guided me and said, 'No, she's a baby and she'll come around,' " he explains. "She was young. I was in a wheelchair every day. [But] my fiancée and my son, they wouldn't let me just lie down."