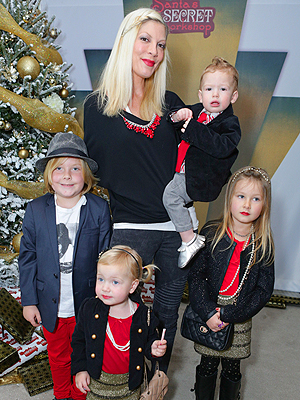 Tiffany Rose/WireImage
Considering Finn Davey is her fourth child, you would think Tori Spelling might relax a bit and not worry so much about his safety and well-being.
But in fact, it's the opposite — perhaps because his health was never a given.
"[My husband] Dean [McDermott] says I'm actually more protective of Finn than I was of the other three," Spelling, 40, told PEOPLE during the 3rd Annual Santa's Secret Workshop, which benefited L.A. family housing, in West Hollywood on Saturday.
"Because of what Finn and I went through medically — it was a rough pregnancy — I may not consciously know it, but at home I'm usually behind him going, 'Wha! Wha! Wha!' And Dean is like, 'Please stop gasping!' "