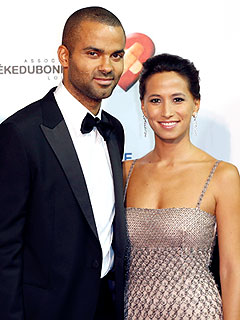 AFP/Getty
Tony Parker has plenty of reasons to celebrate!
The San Antonio Spurs player, 31, and fiancée Axelle Francine welcomed their first child on Wednesday, April 30, a spokesperson for the team confirms.
Son Josh was born hours before his basketball player dad helped the Spurs beat the Dallas Mavericks 109-103 in Game 5 of the playoffs.
"He was really excited before the game. Obviously, he was really excited to have his son here and wanted to get this game really badly, not only for his son but for the situation and the timing of it," Spurs forward Tim Duncan said.
In October, Parker announced he was expecting a son with Francine, a French journalist.
Read More