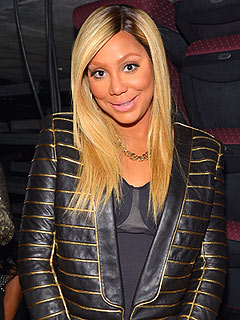 Bryan Steffy/BET/Getty
Kids. They grow up so fast these days.
That definitely seems to be the case for Tamar Braxton-Herbert's son Logan. The star of WE TV's Braxton Family Values and Tamar and Vince, says her 13-month-old is verging on a savant.
"He's amazing," Braxton-Herbert, 37, told PEOPLE at Gain Fling's Music to Your Nose event during the 20th Annual Essence Music Festival on July 2.
"He's walking, he's talking, he's playing the piano — he's a little Benjamin Button, it's crazy. I don't know what happened, he's not a baby anymore."
The little mover and shaker has some grown-up swagger, too. His look "is just like Vince's," she says of her son and husband Vince Herbert's father-son style.