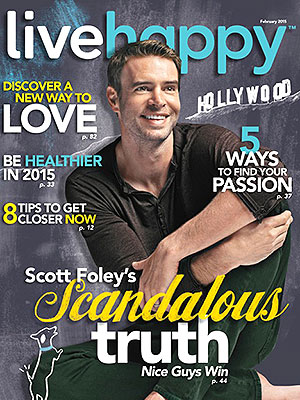 Courtesy Live Happy
Scott Foley has found his two greatest loves in life — and they both require early wakeup calls.
"At this stage of my life, what makes me happy is my passion," the Scandal star says in the February issue of Live Happy. "That sounds so generic and broad, but I love to act, I love to tell stories and that is my passion."
Foley's other focus: his family of five. The actor and his wife Marika Dominczyk are parents to daughter Malina, 5, and sons Keller, 2½, and Konrad, 10 weeks.
"I love my family — my family makes me happier than anything else. I'm passionate about spending time with them, watching them grow and making them laugh," he explains. "Those are the two passions in my life: family and work."
For Foley, 42, the pieces all began to fall into place a decade ago.