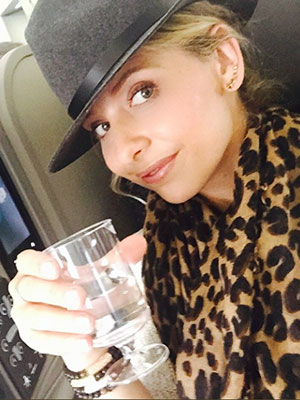 Courtesy Sarah Michelle Gellar
When your mom is Sarah Michelle Gellar, a trip to New York City comes with some serious perks.
"I'm off on a girls weekend with two five year olds," the actress posted on Instagram before taking off for the Big Apple. "My airplane cocktail has been replaced with water #Mocktail #WishMeLuck."
First stop for Gellar and her daughter Charlotte Grace? A trip to Times Square.
"My hometown can definitely be a bit overwhelming," the native New Yorker captioned a photo of her 5-year-old taking in the sights. "My little #Angeleno daughter #NYPride."
From there, it was a backstage pass to Broadway, where the trio caught up with Kristin Chenoweth.
"Auntie Kristin teaching Charlotte the ins and outs of being a Broadway star #OnThe20thCentury," Gellar, 37, wrote alongside a cute pic of her daughter with Chenoweth. "@kchenoweth the greatest talent in the tiniest body and all love."