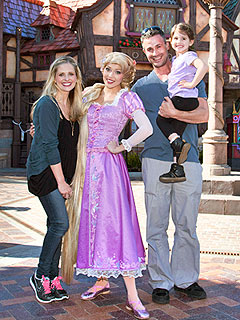 Paul Hiffmeyer/Disneyland
Sarah Michelle Gellar gets by with a little help from her friend … err, husband.
Robin Williams's The Crazy Ones costar, 36, says in the midst of one of the busiest times of her life — "We've moved houses, had two children's birthdays, we are launching [a website]. Oh, and I'm launching a small TV show you might have heard of," she recently told PEOPLE — she leans on hubby Freddie Prinze, Jr. for support.
"I have amazing help," she explains when it comes to balancing work and being a mom to Charlotte Grace, 4, and Rocky James, 1.
She adds, "I have my mom who lives nearby. I have my husband who is so incredibly hands-on. Thank God he can cook or I would probably never eat."