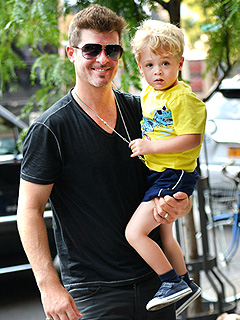 Javier Mateo/Startraks
Robin Thicke has the number one album and single in the country right now and his son Julian Fuego may have something to do with it.
"He's obviously the best thing that's ever happened to me. He's my good luck charm," the singer, 36, tells PEOPLE in this week's issue.
And although Thicke is topping the charts — and is nominated for three VMAs for his "Blurred Lines" video — he may be facing some competition from his mini me.
"He's 3 and wants to be a rock star! He''s always talking about hooking up with the band. He tells me he's going to New York and 'They're going to pay me, Daddy!' It's cute and adorable," he says.
Read More