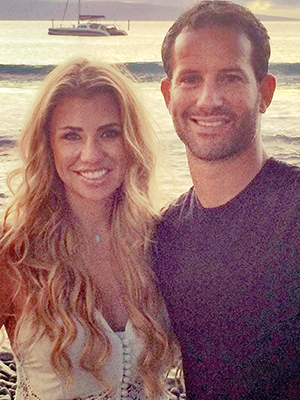 Courtesy Kiptyn Locke
He already knows they're going to be buddies.
Kiptyn Locke, the runner-up on Jillian Harris's season of The Bachelorette, is expecting a baby boy with girlfriend Samm Murphy in July, he confirms to PEOPLE. And he can't wait to have some male bonding with the little guy.
"The minute I found out we were having a baby, I just knew right away that it was a boy," Locke, 37, tells PEOPLE.
"I would love a daughter equally, and I would love to have a Daddy's little girl, but I just knew all along it was a boy, and I was excited. I want to play sports with him, so I'm excited to have a little guy that can be my little partner in crime."
Locke, who dated Bachelor contestant Tenley Molzahn for several years after their turn on Bachelor Pad, says he and Murphy, 29, are "both very happy to be parents." And he knows Murphy, who runs a medical distribution business, will be a great mom.
"She's incredibly intelligent, very active, very compassionate and self-motivated, a loyal friend to everyone that I know that's close to her. She's a really admirable person," says Locke, who is a tech businessman himself.
Read More