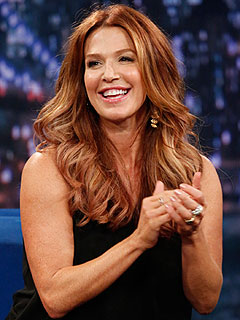 Lloyd Bishop/NBC
Poppy Montgomery certainly followed family tradition when she welcomed daughter Violet Grace in April, but the actress admits it was a complete accident.
Despite joining a long line of flower names — Montgomery's sisters are Rosie Thorn, Daisy Yellow, Marigold Sun and Lily Belle — the baby girl was actually named for her paternal grandmother.
"I didn't realize Violet was a flower when I named her. It was so odd!" the Unforgettable star said during a recent appearance on Late Night with Jimmy Fallon. "It's my boyfriend [Shawn Sanford]'s grandmother's name and I was like, 'Violet! I like Violet.'"
But, shortly after deciding on her daughter's name, Montgomery's mom celebrated the unexpected news.