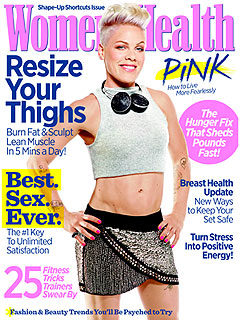 Courtesy Women's Health
To say that Pink is madly in love with her daughter, Willow Sage, is putting it mildly.
"I have the most beautiful baby that was ever born. Ever. So I'm sorry about all the rest of you," she jokes in a video promoting her cover story in the October issue of Women's Health.
The singer, who's in the middle of her Truth About Love tour, soaks up every minute she can with her 2-year-old, who's accompanying her mom on her travels around the world.
"My favorite thing to do when I have downtime is sleep and play with my baby. And sleep alongside my baby," she admits.
But there's one thing that worries Pink, 33, about her daughter — her taste in music.
Read More