Life has come full circle for The Guncles.
Bill Horn and Scout Masterson, the reality couple and best friends of Tori Spelling, are now settled in as parents to two children, 1-year-old son Bosley Jo and 5-year-old daughter Simone Lynn, whom they welcomed with the help of the Independent Adoption Center.
Now the dads are giving back to the agency that worked with them to become a family of four by teaming up with LÍLLÉbaby to create a custom baby carrier. A portion of the proceeds will be donated to the organization.
"We knew we wanted to design a bold, geometric print that was cheerful, sophisticated, and unique," Horn and Masterson say. "We are proud to be able to use this project to benefit a charity near-and-dear to our hearts."
The colorful pattern (designed by Masterson using a box of crayons!) is available on the brand's Complete All Seasons Baby Carrier ($160) as well as their mini doll carrier ($40).
And the dads' limited edition version already has a huge fan base: Celebs including Tiffani Thiessen, Emily Maynard, Marla Sokoloff and Sherri Saum took to social media Tuesday to share their excitement.
In honor of the launch, Horn chatted with PEOPLE about the inspiration behind the bold print, the children's recent milestones and Simone's purple hair!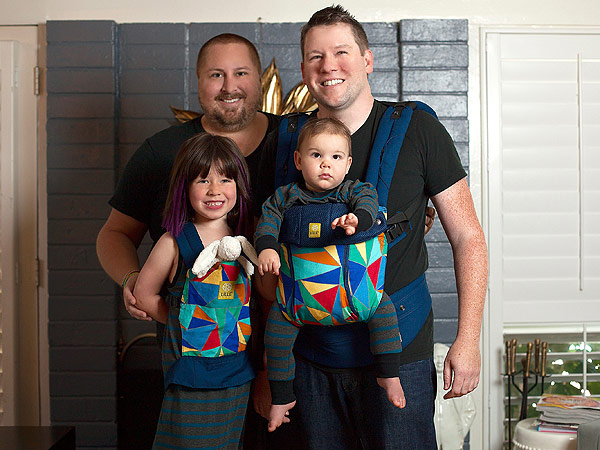 Courtesy LILLEbaby