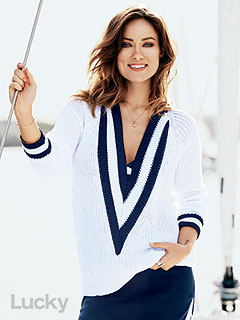 Paola Kudacki for Lucky
Olivia Wilde never imagined flaunting her growing baby belly.
But once news broke that the actress was expecting her first child with Jason Sudeikis, the mom-to-be was immediately proud and pregnant — and more than ready to put her best asset front and center.
"I just thought, 'Oh, I'm going to hide this forever.' But I ended up getting kind of excited to show the bump as a badge of pride," Wilde, 30, says in the May issue of Lucky magazine.
"Like, 'I'm a woman! Look at me making a human! I am a goddess!'"
Not only has her baby on the way softened the expectant actress's heart, but she says she has been welcomed into a whole new world.