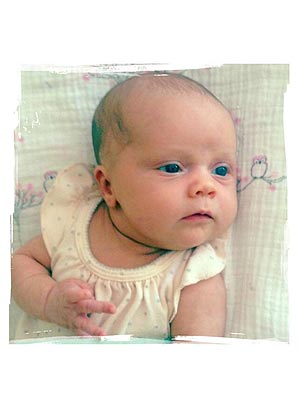 Courtesy Oliver Hudson
Grandma Goldie may have been in charge of her birth announcement, but it's proud papa Oliver Hudson who's sharing the first photo of his daughter.
"My baby girl … Rio Laura Hudson," the former Rules of Engagement actor captioned the sweet snapshot he posted to Twitter on Friday.
Wearing a polka dot flutter sleeve top, the 4-week-old blue-eyed beauty is lying on an owl printed blanket as she gazes off to her side.
Although Hudson and his wife Erinn never officially announced the birth — or confirmed a pregnancy — Hawn broke the baby news in July.
"Welcome Rio! Our first baby girl to join our family," she Tweeted. "Oliver and Erinn thank you for bringing so much JOY to our lives! #happiness"