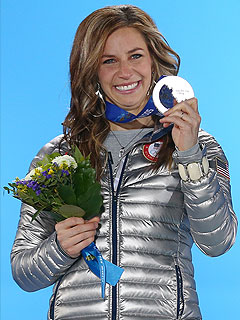 Streeter Lecka/Getty
For Noelle Pikus-Pace, finally winning an Olympic medal at the Sochi Winter Games was a real-life fairytale.
Pikus-Pace slid to silver in skeleton Friday as her family cheered her on. The win capped a long and trying journey for the mom of two: Her leg was shattered by a runaway bobsleigh in 2005, and she famously missed the bronze medal by one-tenth of a second at the 2010 Vancouver Games.
"After all of the hard work that not only I but my family put in to achieve this dream, it came in those minutes, those seconds," Pikus-Pace, 31, tells PEOPLE of her Sochi success. "It really was a fairytale ending."
One of three mothers representing Team USA, Pikus-Pace says 6-year-old daughter Lacee and 2-year-old son Traycen inspired her to reach her goal.