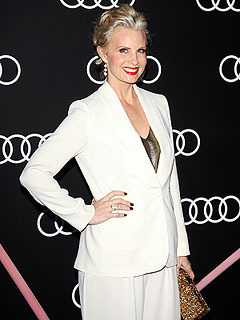 Michael Tran/FilmMagic
Monica Potter captivated viewers with her character's cancer battle on the fourth season of Parenthood, but one fan couldn't take the dramatic story arc: her daughter Molly, 8.
"She got very upset!" the Golden Globe nominee, 42, told PEOPLE on the red carpet Thursday. "She watched through the first episode of the season and I saw her little eyes well up, and I just turned it off."
Potter, 42, was on hand for the AUDI Celebrate Golden Globes Weekend event at Cecconi's. The mother of three (son Liam turns 19 this month, while eldest Danny is 23) said that despite attempts to shield her young daughter from the spotlight, Molly is aching to join the family business.
"She comes to the set a lot now, and she gets it," Potter, who was wearing a white Max Mara suit and gold Irene Neuwirth jewelry, tells PEOPLE.
Read More