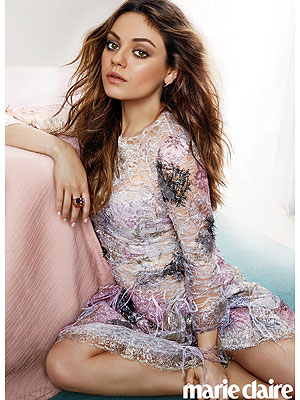 Tesh/Marie Claire
Just in case you were wondering, Mila Kunis has zero plans for Ashton Kutcher to grab a leg during labor — because some things simply can't be unseen.
"He is staying above the action. He'll be head to head. Not head to vag," the pregnant star bluntly tells Marie Claire for its July cover story.
"Unless he wants to risk his life and see. But I wouldn't if I were him. I highly doubt he wants to see that being ripped apart and shredded. Because it will be shredded. It's just a matter of how badly."
Also, don't expect any parties as the big moment arrives. Kunis plans to keep things simple while giving birth to her daughter in the fall — and has previously said she's planning on a natural birth, sans epidural.
"Two people are allowed in my delivery room. My doctor and my significant other," she says.