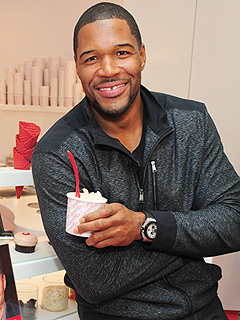 Michael Simon/Startraks
Michael Strahan may arguably be the busiest guy in showbiz.
Now that he has a new part-time gig on Good Morning America — in addition to his daily job as cohost on Live! with Kelly & Michael – you would think he would want countless cups of coffee to sustain his energy. But the truth is, he'd rather have a sugary sweet.
"I have the biggest sweet tooth! You name it, I will eat it," Strahan told PEOPLE at Friday's grand opening of the Sprinkles Ice Cream shop in New York.
"My all-time favorite is my mother's butter cake. Every time I go home, my mom will already have the cake made because I love it so much. This makes my siblings mad because they think she favors me. I don't care because she probably does!"