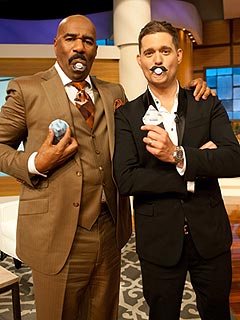 Tim Hiatt/NBC
When it comes to daddy duty, Michael Bublé is just getting his feet (and face!) wet.
But, according to the first-time father, so far, he's being showered with plenty of love courtesy his 2-week-old son Noah.
"The best [baby gift] I got was a little baby circus tent and you just take it and you put it on his little wiener when you change him," Bublé, 38, says during a Sept. 18 appearance on Steve Harvey.
"The dude peed on me like 40 times!" he explains.
Read More