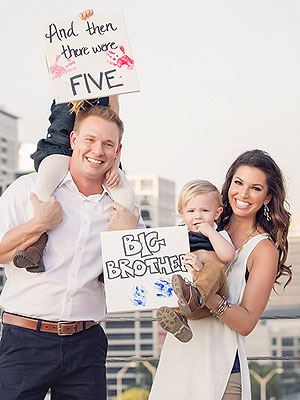 Images of Grace Photography
The newest Bachelor baby has arrived!
Melissa Rycroft and husband Tye Strickland welcomed their third child on the evening of Wednesday, May 18, PEOPLE confirms.
Son Cayson Jack Strickland weighed in at 8 lbs., 12 oz. and joins older siblings Ava Grace, 5, and Beckett Thomas, 2.
"Welcome to the world, little one," the new mom of three tweeted, along with a black-and-white photo of her and her newborn baby boy.
Former Dancing with the Stars champ and Bachelor winner Rycroft announced the impending arrival of the couple's third child on Instagram in November, in a photo featuring their kids holding handprint-emblazoned signs reading "Big Brother" and "And then there were five."
"This is definitely the last one … probably…" Rycroft captioned the sweet family photo. Soon after, they announced they were expecting a boy.
Read More