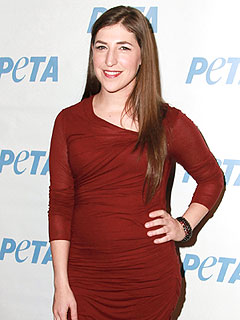 FameFlynet
When Mayim Bialik's sons Miles, 8, and Frederick, 5½, grow up, they're going to be in for a big surprise.
During a Tuesday interview with Howard Stern, The Big Bang Theory star revealed that, in her kids' eyes, her career is just being a mom.
"They don't really know who momma is," the former Blossom star tells Stern.
"My older son knows that people come up to me and say, 'Big bang, big bang,' and want to take pictures. But to them, they know me as the person who cleans the toilets and makes their breakfast."
When it comes to her famous childhood role, "They've seen a Blossom doll, like the Barbie doll," says the actress, 38. "My oldest son used to call it 'the momma doll.' He thought every momma had a Barbie doll."