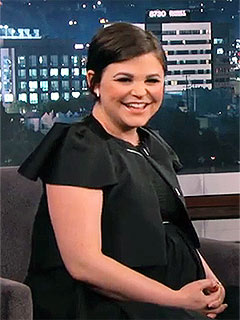 Courtesy Jimmy Kimmel Live
Picking a baby name can be hard, especially in Hollywood. It's even harder, Ginnifer Goodwin revealed, when considering her husband's family name.
"Naming a child though, with the last name of 'Dallas,' is a little more complicated," Goodwin, 35, told Jimmy Kimmel during her first public appearance since tying the knot with Josh Dallas.
"Not a first name that begins with a 'D' because it gets porny," she joked, referencing Debbie Does Dallas, "and nothing geographical 'cause it sounds like an airport."
But Dallas, 32, doesn't heed his wife's warning, proposing a very Texas-centric name for their unborn child.
"He was like, 'Boy or girl, Austin Dallas,'" Goodwin said on the show. "I'm like, 'I'm pretty sure that is an actual place where planes land. We can't do that.'"
Read More