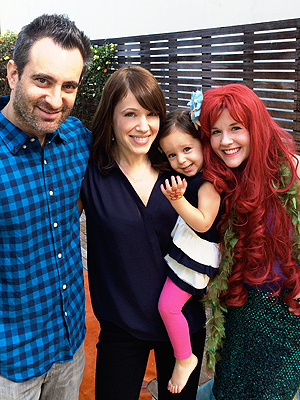 Ariel at Elliotte's party – Courtesy Marla Sokoloff
A warm welcome back to our celebrity blogger Marla Sokoloff!
Since audiences first got to know her at age 12 as Gia on Full House, Sokoloff has had many memorable TV roles — Jody on Party of Five, Lucy on The Practice, Claire on Desperate Housewives — as well as turns on the big screen in Whatever It Takes, Dude, Where's My Car? and Sugar & Spice.
Sokoloff, 33, currently plays Dani on ABC Family's The Fosters.
She wed her husband, music composer Alec Puro, in November 2009 and the couple — plus pup Coco Puro — make their home in Los Angeles.
You can find Sokoloff, now mom to 2-year-old daughter Elliotte Anne, on Twitter and Instagram.