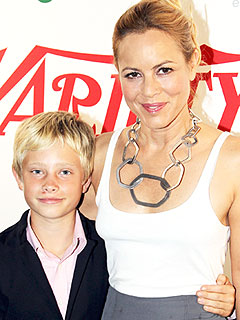 Sayles/Invision/AP
Grown Ups 2 star Maria Bello's son Jackson is doing a little growing up of his own.
And as the actress adjusts to life with an adolescent, her 12-year-old is busy testing the waters as he transitions into a teenager.
"Going from 11 to 12 was such an extreme change. He's suddenly discovering girls and becoming independent in a different way," Bello, 46, tells Sweden with Love. "He's a little snarky, but he's very cute!"
Still, the sudden switch in her son often catches Bello by surprise. "Sometimes it feels as if there's a whole new different person in front of me. It's funny!" she shares.
"This stage is so different, but it's also fun. I'm enjoying him so much. He's a great kid."
Read More