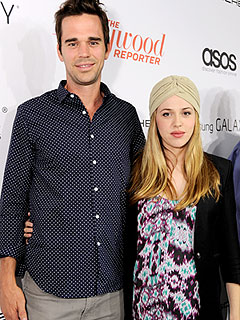 Jordan Strauss/Invision for THR/AP
It's a boy — a bit early!
Actors David Walton and Majandra Delfino welcomed their second child — a month before his due date — at 9:08 p.m. on Sunday, Nov. 10, they tell PEOPLE exclusively.
In Ojai, Calif. at the time, the couple were caught off-guard when their son "decided to begin his journey into the world" weeks ahead of his anticipated arrival.
Following an "action-packed trip back to Los Angeles" — which included one quick hospital visit and a "close call on the side of the road" — Louis Augustus Walton arrived at Cedars-Sinai weighing in at 8 lbs., 7 oz.
"Louis (pronounced LOU-ee) is as healthy as can be," Walton, who recently appeared on New Girl and stars on NBC's About a Boy early next year, tells PEOPLE. "We couldn't be happier with our very early Christmas gift."