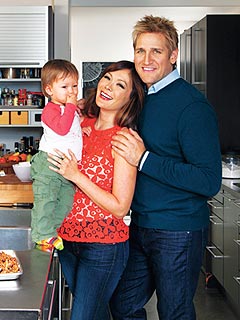 Roger Davies
Curtis Stone and Lindsay Price are loving parenthood so much that they're going back for seconds!
The celebrity chef, 38, and his actress wife, 37, are expecting their second child, Stone announced Wednesday during an appearance on The Queen Latifah Show.
"My beautiful wife is pregnant again with my second baby!" he said to a cheering audience.
Shortly after welcoming their firstborn, son Hudson, now 2½, Stone admitted he was surprised at how emotional he became after witnessing his baby boy's birth.
"It was one of those unbelievable experiences, and coming out the other side, you look at this little baby boy you have made, and it's the depth of your love together that is amazing," the Top Chef Masters host said.
Read More