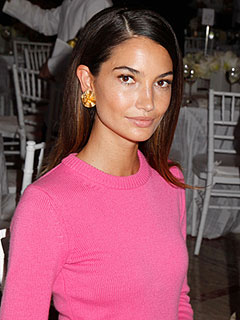 Gregory Pace/BEImages
After celebrating her first birthday with a Minnie Mouse-themed party in June, Lily Adridge's baby girl Dixie Pearl has blossomed into a social butterfly.
"She talks all day — she loves talking and saying 'Hi' to everyone. She's so social," the model, 27, told PEOPLE at the FIT 2013 Couture Council Award luncheon in New York City on Wednesday, where Michael Kors was honored.
"She says 'Hi' to everybody, going down the aisle on an airplane or down the street. It's very sweet," adds Aldridge.
According to the Victoria's Secret Angel, it seems as if Dixie is taking after her rocker dad, Kings of Leon frontman Caleb Followill, 31 — especially during her music class. "She's my husband's identical twin. She loves playing piano," says Aldridge.
Read More