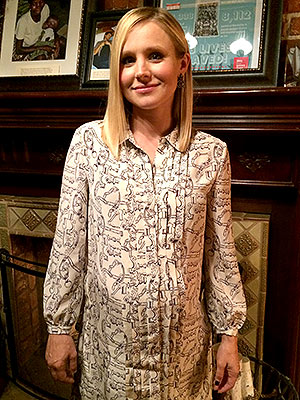 Courtesy Nicole Sands
Kristen Bell's 18-month-old daughter Lincoln is already a great communicator.
"[She can say] a lot of two-syllable words, but she signs mostly because she's really good at it," the actress told PEOPLE at This Party Saves Lives event hosted by her company, This Bar Saves Lives, on Thursday night.
She adds, "People recommend doing signs because the baby can communicate with you and say, 'I want an apple' or 'Look at the black dog,' and you can actually form sentences."
While Lincoln works on her signing skills, Bell, 34, and husband Dax Shepard, 39, are preparing for the upcoming arrival of their second child. The actress says her pregnancy has fortunately been a breeze — just like her first.
"Thank my lucky stars, it's been a virtually identical pregnancy," she shares. "Pregnancy can be really hard for women, and I'm lucky that I'm not really symptomatic. I'm okay with being on my feet and I'm lucky that my body feels really good."