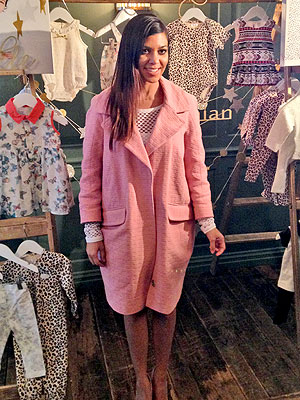 Courtesy Shanelle Rein-Olowokere
Kourtney Kardashian is a big fan of sharing, especially when it comes to her children's clothing.
Even though her kids' styles are very different (Mason, 4, is hip and Penelope, 19 months, is more girlie), the designer has no problem dressing up her youngest in her older brother's hand-me-downs.
"I kept a lot of Mason's clothes, like little blazers and loafers and I've used them on Penelope," Kardashian told reporters at a tea party on Monday at N.Y.C.'s Soho House to celebrate her new baby line, Kardashian Kids, sold at Babies 'R Us.
"I've even done a full suit for a full menswear look, like a Saint Laurent look."
Although she has a lot of input on what Penelope wears, the reality star readily admits she doesn't have a lot of say when it comes to her son.