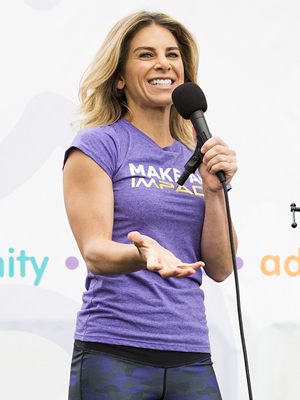 Alison Buck/Getty
Staying sane isn't easy for any mother, but fitness expert Jillian Michaels says she's found a technique that allows her at least some semblance of balance: dedicating 12 hours a week to herself.
"With two young children, I had to figure out a way to balance my days," Michaels, 41, tells PEOPLE after she participated in the annual March of Dimes March for Babies walk in Los Angeles on Saturday, to help promote full-term pregnancies and healthy babies. The Kmart ambassador strolled alongside company reps, as the retailer was a top sponsor of the fundraising walk.
The Biggest Loser coach and mom to daughter Lukensia, 5, and son Phoenix, who turns 3 on May 3, says she uses her solo time to handle her own personal demands, like keeping doctors appointments and maintaining a regular fitness routine.