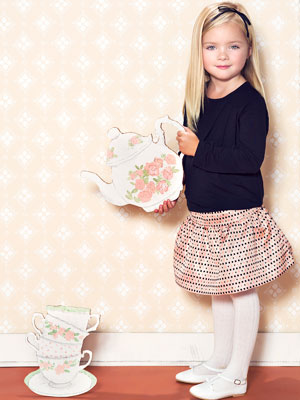 Courtesy Kardashian Kids
When we first got wind that Kourtney, Kim and Khloé Kardashian were creating a kids clothing line, we were instantly intrigued.
Then we got a sneak peek at Kardashian Kids, fell in love — and had one big complaint. The chic collection only catered to babies up to 24 months.
What's a (toddler) girl to do?
Luckily, Kourtney's daughter Penelope is growing up — and the clothes are too! The sisters have gone back to the designing board to broaden their fashionista fan base with faux fur trimmed wool coats and classic quilted dresses that will be available in sizes up to 5T.
"Penelope continues to be our inspiration for the line as she's grown into toddlerhood. We have so much fun watching her begin to form opinions about what she wants to wear," says Kourtney.