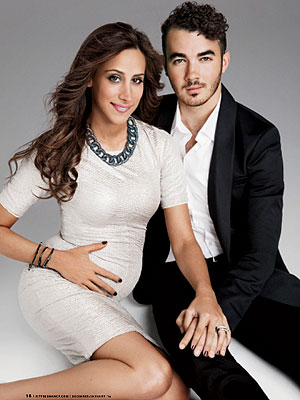 Courtesy Fit Pregnancy
When Danielle Jonas discovered she was pregnant, she knew she wanted to knock husband Kevin's socks off with the reveal.
"First, I took like 12 tests to confirm it. Then I took all the socks out of his drawer and filled it with diapers and a bib that said, 'I love Daddy,'" the mom-to-be says in Fit Pregnancy's December/January issue.
"I also put all the tests in there and a sign that said, 'I'll meet you in nine months.' Then I put his socks downstairs in a basket."
But while she was hoping to surprise the singer when he arrived home, Danielle — who is expecting a daughter — quickly realized his hunger pains were priority.
"When he got home, I was like, 'Kevin, can you go put your socks upstairs?' And he said, 'Can I just eat first?'" she recalls. "I was like, 'Really?' I was pretty pissed about it. And then he saw what was in the drawer."
Read More