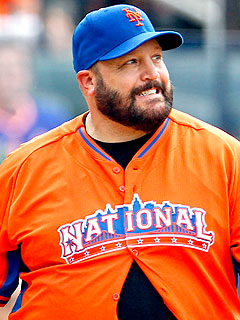 Adam Hunger/Reuters/Landov
Contrary to popular belief, it's not always all dirty jokes and pranks on the set of a comedy.
For Kevin James and his Grown Ups 2 costars, shooting the sequel to their 2010 hit film proved a great opportunity to spend time with their families.
"[It's] always a fun time with them," the actor, 48, told PEOPLE ahead of Sunday's MLB All-Star Legends & Celebrity softball game at New York's Citi Field.
"We just have a good time. It's everybody getting together, all the families and the kids. We just enjoyed it, I loved it."
And the family-friendly fun extended to after the film — costarring Adam Sandler, Chris Rock, David Spade and Rob Schneider — had wrapped and hit theaters.
Read More