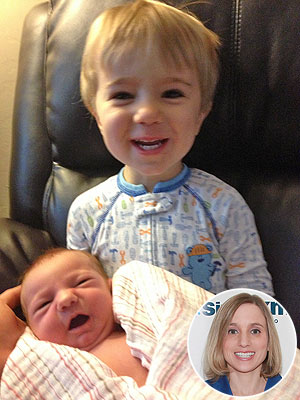 Courtesy Kerri Strug
It's a golden girl for Kerri Strug!
The two-time Olympic medalist and husband Robert Fischer welcomed their second child, daughter Alayna Madaleine, on Thursday, June 26, the former gymnast tells PEOPLE.
Born at 8:08 a.m., Alayna weighed in at 7 lbs., 11 oz and measured 19.25 inches long. She joins big brother Tyler William, 2, at home.
"Robert and I are so proud of our family. We were so excited to give Tyler a sibling a couple of weeks ago, especially a baby sister," says Strug.
"Alayna is beautiful and doing well.  She is a good baby with a healthy appetite. We know she is going to follow in her big brother's footsteps and be independent, funny and extremely active before we know it!"
Strug — who rose to fame at the 1996 Olympic Games in Atlanta, when she courageously stuck her vault landing with a third-degree lateral sprain — and her husband, an attorney, were married in April 2010.
Read More