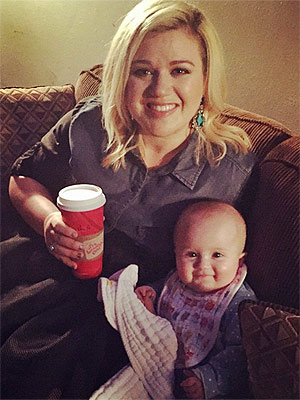 Courtesy Kelly Clarkson
While promoting her single "Heartbeat Song" on Monday, Kelly Clarkson shared some behind-the-scenes details about how motherhood nearly ended her career – only to make it better than she could have ever imagined.
"I honestly had a lot of wine one night and had confessions with my husband [Brandon Blackstock] of, like, 'What I was going to do with my life?' because my voice was really bad," she recalled to Elvis Duran and The Z100 Morning Show. "I figured [my baby] was going to come out yelling, 'Shut up!' "
Quite the opposite. As Clarkson, 32, recently (and adorably) showed with a 15-second snippet of "Heartbeat Song," little River Rose cannot get enough of her mom's next single.
Even more heartwarming, Clarkson reveals that the track's beat is "actually River's heartbeat slowed down from when she was in my tummy!" (It's no wonder then that River was super-excited about the song!)