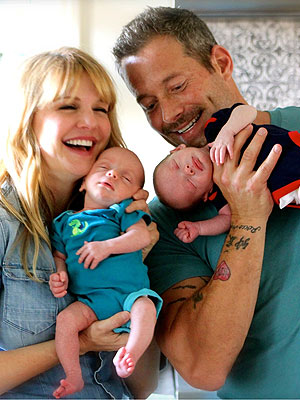 Morris-Messner Family – Brian A. Miller
Kathryn Morris is a mom — times two!
The former Cold Case star and actor Johnny Messner welcomed twin sons on Wednesday, Aug. 21 at Cedars Sinai in Los Angeles, Calif., her rep confirms to PEOPLE.
"Jameson West Messner and Rocco McQueen Messner are now cozy at home loving family life," the new parents tell PEOPLE exclusively. "We've been blessed with 14 lbs. of love from above with these angels. Healthy sweet boys!"
Both baby boys were born at 8:12 a.m., and weighed in at 6 lbs., 14 oz. and 6 lbs., 10 oz.
Although the initial discovery that Morris, 44, and Messner, 43, were welcoming twins took them by surprise, the new mom is thrilled her baby boys share a special bond.
Read More