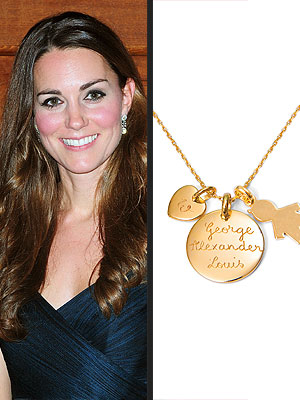 Courtesy Mercimaman; Inset: Landov
The Duchess of Cambridge continues to embrace her everyday favorites when it comes to jewelry.
Kate was recently spotted wearing a simple gold charm necklace — dubbed the "Duchess" — that is available for purchase online at Merci Maman.
Beatrice de Montille, founder of the UK-based e-boutique, said she sent the personalized necklace to Pippa Middleton, asking her if she'd pass it along to then mom-to-be Kate, who is well known for her fondness of retail brands like Topshop and Zara, where her style embrace has caused everything from dresses and shoes to sell out.
"Pippa is one of our customers. She has bought many products from us in the past year," de Montille told PEOPLE.
Read More