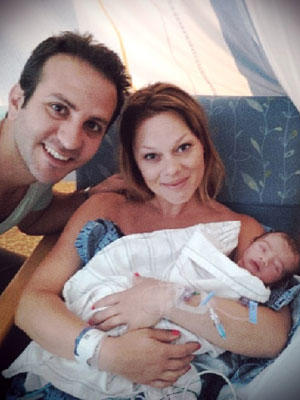 Courtesy Jahangiri Family
She once said there would be plenty of time for "freaking out" later in her pregnancy — and Kate Levering was right.
The Drop Dead Diva star, 34, and her husband Reza Jahangiri welcomed a son — one month early! — on Thursday, July 18, her rep confirms exclusively to PEOPLE.
Born at 9:35 p.m. in Newport Beach, Calif., Holden Robert Jahangiri weighed 5 lbs., 4 oz and measured 18 inches.
Since announcing she was expecting her first child, Levering had been enjoying an easy pregnancy — up until her water unexpectedly broke at 3 a.m., forcing the parents-to-be to scramble.
"We were in no way prepared for an early delivery. I had only been home from shooting Drop Dead Diva for nine days," Levering tells PEOPLE, adding the couple had yet to buy a car seat or pack hospital bags.
Read More