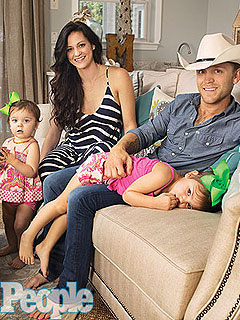 Getty
He's back on the path — to parenthood!
Country singer Justin Moore, 29, and his wife Kate are "so thrilled" to be expecting their third child this summer, his rep confirms to PEOPLE exclusively.
"We are so blessed that God has given us this gift for the third time," Moore, who recently released his third album, Off the Beaten Path, tells PEOPLE.
The couple are parents to two daughters – Kennedy Faye, 2, and Ella Kole, 4 next month — and with three lovely ladies already in his household, Moore admits almost everyone is holding out hopes for a baby boy.
"Ella and Kennedy want a brother and so do I!" he jokes, before adding, "As long as we have another healthy child, we will be happy regardless."