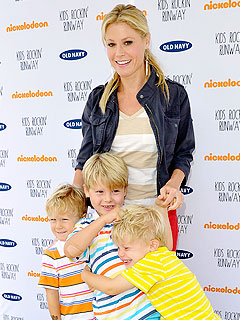 Michael Simon/Startraksphoto
Julie Bowen may be outnumbered by her brood of boys, but it's a challenge she's willing to accept — without any full-time hired help.
"We definitely go nanny-free far more than my husband would like and that started with us … on the weekends," the Modern Family star, 43, tells PEOPLE.
"I'm not a saint and that's not to say we have never had a scoch of help on the weekends, but we never had anyone regular."
However, her steadfast commitment to raising her sons — 6½-year-old Oliver and 4½-year-old twins John and Gus — was not one initially shared by husband Scott Phillips.
"I felt that it was important — and I forced my husband into this line of belief — that we do have three kids and we need to know how to be with three kids," she says.