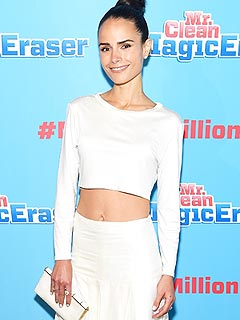 Jamie McCarthy/Wireimage
When it comes to her son Julian's first birthday party, Jordana Brewster is working fast and furiously to make the celebration special.
It's only appropriate that the Dallas star, 34, would break out the 10-gallon hats, spurs and chaps for the occasion.
"Since he was born in Texas, we kind of want to do a cowboy-themed birthday party," Brewster told PEOPLE at Tuesday's Mr. Clean Summer Fashion Party. "I feel like it would be really cute."
But don't expect it to be an over-the-top event; Brewster is working hard to keep the party intimate, with only family and a few friends on the invitation list.
"We might have to borrow my sister's yard because right now we're in a rental," says Brewster.
With the guest list done and the location all set up, there's only one thing left to plan: the food.