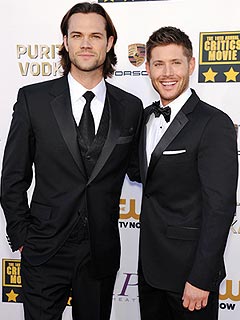 Nate Beckett/Splash News Online
It takes a lot to memorize lines and perform action stunts, but Supernatural star Jared Padalecki says his real challenge is at home.
"For grown men who are used to playing sports, babies are tough," the actor, 31, who welcomed his second son, Shepherd, in late December, told PEOPLE on Thursday at the Critics' Choice Awards.
"As they get older, you can play and communicate — it's fine. When they're babies, you're like, 'I don't want to break you. I have big hands, I'm sorry.'"
Luckily, Padalecki — who is also dad to 22-month-old Thomas Colton — credits his "pretty awesome" wife Genevieve, alongside the occasional nanny, with helping him conquer double diaper duty.