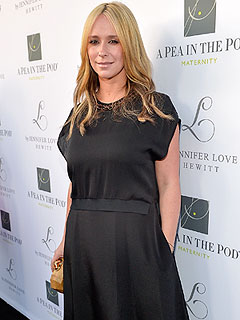 Charley Gallay/Getty
With a new baby and a new husband, it was a busy winter for Jennifer Love Hewitt. But the mom of now 4-month-old Autumn James couldn't be happier about her new roles.
"Those first couple of nights, it was wild," the actress, 35, told PEOPLE at the launch of her maternity line for A Pea in the Pod on Tuesday in Beverly Hills.
"When they let us bring her home I said to [husband, actor Brian Hallisay], 'To get your license you have to take a test. They check to make sure you're a good human being to get behind the wheel of a car. They've given us no test! We just had a baby and now we're going home.' He was like, 'I know, it's terrifying!'"
Thankfully, Dad is up for the challenge. "He's fantastic. He's great at diaper changing and at the football hold, which she loves," says Hewitt.