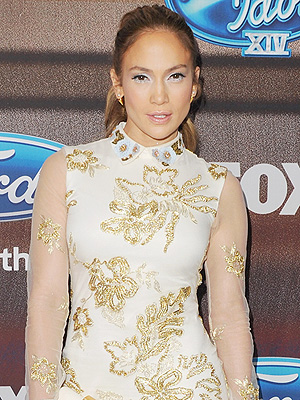 Jon Kopaloff/FilmMagic
Jennifer Lopez may be known for her sultry music videos and sexy films like The Boy Next Door, but now she's got a family-friendly film her kids can enjoy!
"I mean, it is so exciting for me," Lopez, 45, tells PEOPLE of being able to take her twins, Emme and Max, 7, to her new animated film Home.
The movie — which showcases the voices of Lopez, Rihanna and Jim Parsons –– won't be out for another week, but it has already spawned some catchphrases in the Lopez household.
"I didn't even know they knew about the movie! But a couple of weeks ago, I was trying to okay a snippet [of the film] to go on Instagram and I'm looking at it and they hear it coming from my phone," says the American Idol judge, who performed "Feel the Light" on the show. "And my son goes, 'Hey, is that the song from the movie that has the guy who says, "Put your hands in the air like you just don't care?" ' "
"They were like, 'It comes out March 27.' I was like, 'How do you know this?' " she says in disbelief. "And Max is like, 'We saw the trailer!' They are so connected in a way that I don't even know about. It's crazy."
Read More