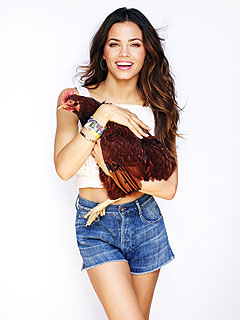 Jeff Lipsky
She's a very healthy vegan. He's a former Sexiest Man Alive meat eater.
And their 1-year-old daughter has yet to decide for herself what makes it on her plate.
But actress Jenna Dewan-Tatum says the decision will eventually belong to their baby girl — and the couple will support Everly either way.
"I don't believe in forcing anyone into anything, but I'll do my best to introduce her to healthy eating habits," she tells the July/August issue of Natural Health magazine.
The first-time mom's main priority is ensuring she creates a positive — and fun — approach to good nutrition.
"We have a little garden so I'll say, 'Let's go pick the vegetables we're going to eat tonight,'" the Witches of East End star, 33, shares. "My pediatrician believes it's completely healthy and possible to have a vegan child and I think that's amazing."