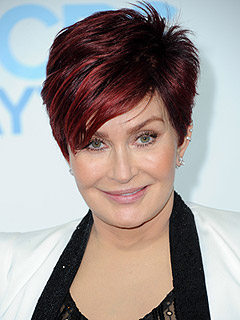 Allen Berezovsky/WireImage
She has famously and fiercely defended her family against all comers, but now Sharon Osbourne can breathe a bit of a sigh of relief. Turns out that her first grandchild, the Osbourne 3.0, is a two-year-old version of a force to be reckoned with. Thomas the Train meets Crazy Train.
You don't mess with the Pearl, the Pearl messes with you.
"She's divine," Osbourne, 61, tells PEOPLE with a grand maternal glow while attending the 2014 Daytime Emmy Awards Sunday in Beverly Hills. "She's fearless."
The Osbournes are probably not your conventional family archetype, most definitely are not known for being wallflowers, so for Jack Osbourne and wife Lisa's daughter, Pearl Clementine, to garner that sort of praise from her grandmother, well the little one has to be doing something special.
Or just be doing something a little bit adorable and off the wall.
Read More